Tamarind Fine Indian Dining
Open today 11:00 AM - 3:59 AM
No reviews yet
33 Main st
Newtown, CT 06404
---
Orders through Toast are commission free and go directly to this restaurant
---
Menu
Popular Items
Lasooni Gobi
$12.00
Lightly battered cauliower sautéed in chili garlic tomato sauce, one of chef's favorite dish
Popular
Samosa
$8.00
A traditional Punjabi stued potato and pea pastry served with mint and tamarind chutney, one of India's favorite snacks
Popular
Chicken Korma
$18.00
Pieces of chicken thigh cooked in a rich aromatic onion sauce and cashew paste
Popular
Lamb Curry
$20.00
Cubed boneless leg of lamb simmered in a brown onion tomato curry seasoned with cumin and garam masala spices
Popular
Chicken Tikka Masala
$18.00
Chicken breast grilled in tandoor and cooked in a creamy onion, and bell pepper tomato sauce
Popular
Lasooni Palak Paneer
$16.00
Homemade paneer cooked in a spinach puree with roasted garlic and onions
Popular
Basmati Rice
$5.00
Plain white basmati rice
Popular
Popular
Popular
Popular
Lunch Prix Fixe
2 Course Lunch Prix Fixe
$15.00
3 Course Lunch Prix Fixe
$18.00
Prestige Lunch Prix Frixe
Indo Chinese Combo
Indo Chinese Combo Chicken
$15.00
Indo Chinese Combo Veggie
$15.00
Indo Chinese Combo Fish
$18.00
Appetizers
Chili Paneer
$13.00
This aromatic dish is made with traditional Indian style cottage cheese sautéed with bell peppers, green onions and soy chili sauce
Peppercorn Chicken
$14.00
Lightly our dusted chicken thighs cooked in Thai black pepper sauce, onion, and mixed bell peppers, garnished with green onion
Crab Cakes
$17.00
Crab cakes made with chunks of blue swimming crab meat served with beet sauce and spice mayo
Vegetable Manchuri
$12.00
Seasonal vegetable dumplings mixed with chili, red onions, and bell peppers sautéed in chili garlic paste with a hint of oyster soy sauce, garnished with chopped green onion
Lasooni Gobi
$12.00
Lightly battered cauliower sautéed in chili garlic tomato sauce, one of chef's favorite dish
Popular
Butter Peppered Garlic Shrimp
$16.00
Shrimp sautéed with mixed bell peppers, and onion, in chili garlic butter sauce
Puchkas
$10.00
Crispy semolina shells lled with boiled potatoes, yogurt, mint and tamarind chutney garnished with pomegranate seeds
Chili Chicken
$13.00
Lightly our dusted chicken thighs sautéed in chili sauce garnished with green onions
Palak Chaat
$10.00
Crispy baby spinach, yogurt, mint chutney, and date chutney garnished with pomegranate seeds
Samosa
$8.00
A traditional Punjabi stued potato and pea pastry served with mint and tamarind chutney, one of India's favorite snacks
Popular
Crispy Calamari
$12.00
Hot cherry peppers, chef special sauce
Salad
Mint Rita
$4.00
Yogurt mixed with mint, cucumber, onion, and roasted cumin
Dadi's (Grandma Salad)
$10.00
Tender leaves of arcadian mixed greens served with slices of avocado, grape tomato, red onion, cucumber, garbanzo beans served with lemon vinaigrette dressing
Salmon Salad
$17.00
Salmon from the pristine waters of Faroe Island arcadian mixed greens, grape tomatoes, and avocado served with lemon vinaigrette dressing
Soup
Cumin Lentil
$6.00
Red Lentils simmered in Mirepoix broth with a touch of oven roasted cumin
Manchow
$6.00
Asian soup with a twist of Indian are mixed with local garlic, chili pepper, and cilantro with a crispy noodle garnish
Sweet Corn
$6.00
Homemade corn broth with asparagus and sweet corn kernels
Dumpling & Noodle Soup Bowl
$10.00
chicken dumpling seasonal vegetable roasted garlic
Entree
Chicken Korma
$18.00
Pieces of chicken thigh cooked in a rich aromatic onion sauce and cashew paste
Popular
Chana Masala
$15.00
Chickpeas simmered in an onion tomato sauce
Artichoke Matter Mushroom
$16.00
Quartered artichoke hearts, green peas, and mushroom cooked in tomato and onion sauce with a touch of Fenugreek
Lamb Curry
$20.00
Cubed boneless leg of lamb simmered in a brown onion tomato curry seasoned with cumin and garam masala spices
Popular
Dal Makhani (Classic Punjabi Dish)
$16.00
Black lentils, kidney beans, and split peas slow cooked over night to achieve a creamy, rich buttery avor
Traditional Navratan
$16.00
Mixture of sweet corn, fox nuts, carrots, beans, peas, cauliower, and cashews in a rich creamy onion sauce
Murg Dehli-Wala
$38.00
Whole chicken marinated in yogurt and traditional spices grilled in tandoor, cooked in a creamy tomato sauce, and served in a ceramic clay pot
Rajasthani Laal Maas (Spicy)
$20.00
Bone-in cubes of goat meat made in a smoked methani chili pepper and onion sauce
Malai Kofta
$16.00
Minced paneer cheese dumplings stued with dry fruits and nuts cooked in an onion cashew gravy
Chicken Chettinad
$18.00
Pieces of chicken thigh cooked in a spicy onion tomato sauce with coconut milk for a nice southern taste
Eggplants Curry (Bagara Baigan)
$17.00
True to its name bagara meaning tempering of spice, young eggplants are fried and then added to a simmering tangy gravy
Palak Kofta
$16.00
Minced paneer cheese dumplings cooked in a creamy spinach and mustard sauce
Lamb Pepper Masala
$20.00
Cubed boneless leg of lamb seasoned with black pepper, sautéed in a spicy onion sauce with mixed bell peppers
Tadka Dal
$15.00
Yellow lentil curry sautéed with onions, tomatoes, and spices
Chef's Manoj's Signature Shahi Lamb Shank
$30.00
Vadouvan (French spice) rubbed domestic lamb shank pan seared and cooked in a cumin onion yogurt curry sauce
Chef Special Sabji
$18.00
Seasonal vegetables cooked in spinach paste amul cheese
Chicken Tikka Masala
$18.00
Chicken breast grilled in tandoor and cooked in a creamy onion, and bell pepper tomato sauce
Popular
Shrimp Moilee
$20.00
Jumbo shrimp cooked in a mixture of coconut milk, grated coconut and onion gravy with heirloom tomatoes
Chicken Vindaloo (Spicy)
$18.00
Chicken thigh meat and baby potatoes cooked in a spicy vindaloo sauce
Lamb Korma
$20.00
Cubed boneless leg of lamb cooked with a creamy onion sauce and cashew paste
Shahi Paneer
$18.00
Homemade paneer cooked in a creamy tomato sauce with a hint of fenugreek
Paneer Labadar
$16.00
Homemade paneer sautéed with bell peppers and onions cooked in a creamy cashew tomato gravy
Lasooni Palak Paneer
$16.00
Homemade paneer cooked in a spinach puree with roasted garlic and onions
Popular
Methi Malai Paneer
$17.00
Homemade paneer, fresh fenugreek leaves, onions and creamy gravy
Madras Fish Curry
$20.00
Swordsh cooked in a mixture of coconut milk and grated coconut, in a spicy sauce with curry leaves
Indo Chinese The Magic Wok
Indo Chinese Combo Shrimp
$20.00
Indo Chinese Combo Tofu
$18.00
Indo Chinese Combo Fish
$20.00
Indo Chinese Combo Veggie
$18.00
Indo Chinese Combo Chicken
$18.00
Kababs
Paneer Tikka Akbari
$16.00
Fresh homemade paneer marinated in spices, mixed with yogurt, grilled in tandoor, and served with apricot chutney
Murgh Malai Tikka
$18.00
Chicken tenders marinated in cream cheese, grilled in tandoor and served with hummus garnished, pine nuts
Lamb Chops
$28.00
Rack of lamb marinated in yogurt and chef's special spice blend, perfectly cooked in tandoor, and served with hummus and mint chutney
Jumbo Tiger Shrimp
$22.00
Jumbo shrimp marinated in tandoori masala, grilled in tandoori oven, and served with guacamole beet sauce lemon
Dorah Seekh Kebab
$22.00
Minced lamb kebab stued with chicken kebab garnished with spicy mayo
Saloni Machi
$24.00
Faroe island salmon marinated in yogurt, sour cream, masala and spices topped with grape tomatoes, served over guacamole, garnished with beet sauce
Traditional Tandoori Chicken
$16.00
Chicken marinated in yogurt and traditional tikka masala spices grilled in tandoor and served with hummus spicy mint chutney
Rice
Pulao
$10.00
Fried basmati rice with peas, paneer, cumin, and cilantro
Hyderabadi Chicken Dum Biryani
$20.00
Marinated chicken leg cooked with caramelized onions, mint, saron, and basmati rice in a sealed pot, and garnished with crispy caramelized onions and mint
Lamb Dum Biryani
$22.00
Marinated cubes of boneless leg of lamb cooked with caramelized onions, mint, saron, and basmati rice in a sealed pot, garnished with caramelized onions and mint
Gosht Dum Biryani
$22.00
Marinated cubes of bone-in goat meat cooked with caramelized onions, mint, saron, and basmati rice in a sealed pot, garnished with caramelized onions and mint
Basmati Rice
$5.00
Plain white basmati rice
Popular
Jackfruit Biryani
$18.00
marinated jackfruit cooked with caramelized onions, mint, saron, and basmati rice in a sealed pot garnished with caramelized onions and mint
Bread
Popular
Popular
Truffle Butter Kulcha
$9.00
Stuffed with onion, cheese, and chili, coated with true oil
Desserts
Gulab Jamun Malai
$8.00
Gulab jamun with malai, topped with whipped cream and nuts.
Ras Malai Cheesecake
$10.00
Indian cheesecake and malai topped with pistachio pieces , garnished with a carrot puree.
Chocolate Lava Cake
$9.00
Dark chocolate cake filled with rich and creamy chocolate ganache that flows from the center when heated.
Tres Leche
$9.00
Rich,tender sponge cake delicately soaked in three luscious milks and covered with a white satiny cream topping.
N A Beverages
Popular
---
All hours
| | |
| --- | --- |
| Sunday | 11:00 am - 2:45 pm, 4:00 pm - 3:59 am |
| Monday | Closed |
| Tuesday | 11:00 am - 2:45 pm, 4:00 pm - 3:59 am |
| Wednesday | 11:00 am - 2:45 pm, 4:00 pm - 3:59 am |
| Thursday | 11:00 am - 2:45 pm, 4:00 pm - 3:59 am |
| Friday | 11:00 am - 2:45 pm, 4:00 pm - 3:59 am |
| Saturday | 11:00 am - 2:45 pm, 4:00 pm - 3:59 am |
Location
33 Main st, Newtown CT 06404
---
Gallery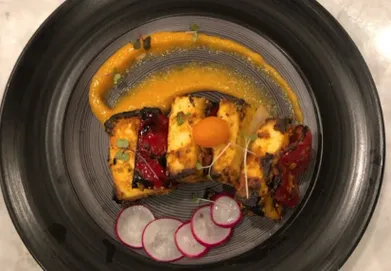 ---
Similar restaurants in your area
More near Newtown
Orders through Toast are commission free and go directly to this restaurant
No Reviews