/
/
/
/
Wakin' Bakin' French Quarter
Wakin' Bakin' French Quarter
1,140 Reviews
$
900 Dumaine St
New Orleans, LA 70116
---
Orders through Toast are commission free and go directly to this restaurant
---
Menu
Popular Items
Tits & Grits July 31st
$55.00
Sunday July 31st 12:30-2:00pm. Enjoy the live performances & 2 course brunch, all benefiting The Schwehm Sisters as they recover from a fire & battle an aggressive cancer. (Tax & gratuity included)
Popular
The Usual
$10.00
Fresh cracked eggs, thick sliced bacon, a fresh Honey Butter Biscuit and your choice of a side
Popular
Biscuits & Gravy
$11.00
Fresh biscuits smothered in our southern style sausage gravy, served with bacon & eggs
Popular
OG Bowl
$9.00
The original breakfast bowl! Bacon Confit & melted cheddar over creamy grits, topped with fresh-cracked eggs
Popular
Bacon Confit'to
$12.00
Bacon confit, Cajun Smashed Hash, & avocado with scrambled eggs, cheddar & pepper jack cheeses in a warm flour tortilla. Served with salsa & sour cream
Popular
Popular
Honey Butter Drop Biscuit
$2.00
Popular
Eggs A La Carte
$1.00
Cooked any stye!
Popular
Cool Brew
$4.00
CoolBrew Iced Coffee by New Orleans Coffee Co
Popular
Fresh Squeezed OJ
$6.00
Fresh Squeezed in-house every morning. 4-6 oranges/glass
Popular
Tickets
Tits & Grits July 31st
$55.00
Sunday July 31st 12:30-2:00pm. Enjoy the live performances & 2 course brunch, all benefiting The Schwehm Sisters as they recover from a fire & battle an aggressive cancer. (Tax & gratuity included)
Popular
Breakfast
Tofu Momma Bowl
$12.00
Black beans & Cajun Smashed Hash topped with sautéed spinach, tomatoes, onions, jalapeños, and Tofu Momma's fresh-made Chili-Lemongrass tofu
The Usual
$10.00
Fresh cracked eggs, thick sliced bacon, a fresh Honey Butter Biscuit and your choice of a side
Popular
Biscuits & Gravy
$11.00
Fresh biscuits smothered in our southern style sausage gravy, served with bacon & eggs
Popular
Heart Healthy Omelet
$14.00
Shrimp, sautéed spinach and tomatoes in a fresh-cracked egg-white shell & topped with avocado in a 3-egg omelet shell, served with Sourdough toast & your choice of a side.
OG Bowl
$9.00
The original breakfast bowl! Bacon Confit & melted cheddar over creamy grits, topped with fresh-cracked eggs
Popular
Meat Monster Omelet
$16.00
Bacon Confit, homemade sage sausage, shrimp, caramelized onions, pepper jack & cheddar cheese in a 3-egg omelet shell, served with Sourdough toast & your choice of a side.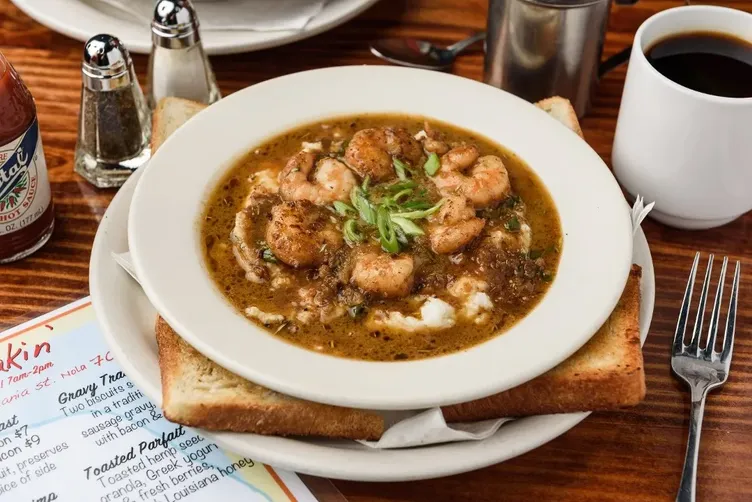 Shrimp Etouffee & Grits
$16.00
served with poached eggs & our homemade Sourdough toast
Bacon Confit'to
$12.00
Bacon confit, Cajun Smashed Hash, & avocado with scrambled eggs, cheddar & pepper jack cheeses in a warm flour tortilla. Served with salsa & sour cream
Popular
Sourdough King
$15.00
Our fresh-baked Sourdough stacked with bacon strips, spinach & tomatoes, a folded egg, melted cheddar, & avocado. Dressed with Bacon Aioli & served with your choice of a side
Pancakes
$12.00
Three to an order, with butter and top-grade maple syrup. Served with two eggs any style & bacon or our homemade sage sausage
The SuperBowl
$16.00
Cajun Smashed Hash & black beans under melted cheddar & pepper jack, bacon confit, sage sausage, jalapeños and caramelized onions topped with salsa, avocado & poached eggs
A La Carte
Side Black Beans
$5.00
Seasoned with our secret spice blend!
Sourdough Toast
$3.50
Thick-sliced homemade Sourdough toast
Popular
Side Creamy Grits
$4.00
Our creamy grits
Side Cajun Smashed Hash
$4.00
Side Fresh Fruit
$5.00
An assortment of fresh-cut fruit
Side Sausage Patties
$5.00
Homemade sage sausage
Honey Butter Drop Biscuit
$2.00
Popular
Eggs A La Carte
$1.00
Cooked any stye!
Popular
Pancakes A La Carte
$7.00
Three to an order, with butter and top-grade maple syrup
Kids Menu
Lil'Cakes
$6.00
3 mini-cakes, an egg & a piece of bacon
Coffee Tea
Drip Coffee
$3.00
Wakin' Bakin' Medium Roast, a special blend by French Truck
Iced Tea
$2.50
French Truck Blend
Cool Brew
$4.00
CoolBrew Iced Coffee by New Orleans Coffee Co
Popular
VooDoo Brew
$5.00
Equal parts CoolBrew Iced coffee & chocolate milk
Juice Milk
Fresh Squeezed OJ
$6.00
Fresh Squeezed in-house every morning. 4-6 oranges/glass
Popular
---
Attributes and Amenities
Family-Friendly
Casual
LGBTQ-Friendly
Cozy
Trendy
Kid-Friendly
Restroom
Wheelchair Accessible
Online Ordering
Solo Dining
Seating
Reservations
Delivery
Contactless Delivery
Curbside Pickup
Fast Service
Catering
High Chairs
Outdoor Seating
Takeout
All hours
| | |
| --- | --- |
| Sunday | 7:00 am - 2:00 pm |
| Monday | 7:00 am - 2:00 pm |
| Tuesday | Closed |
| Wednesday | Closed |
| Thursday | 7:00 am - 2:00 pm |
| Friday | 7:00 am - 2:00 pm |
| Saturday | 7:00 am - 2:00 pm |
Location
900 Dumaine St, New Orleans LA 70116
---
Gallery