Ovenbird Cafe
Open today 9:00 AM - 5:30 PM
443 Reviews
$$
105 Trapelo Rd
Belmont, MA 02478
---
Orders through Toast are commission free and go directly to this restaurant
---
Menu
Popular Items
Biscuits
$3.75
lemon blueberry, rhubarb walnut, apple cheddar, apple pecan, rosemary goat cheese
Popular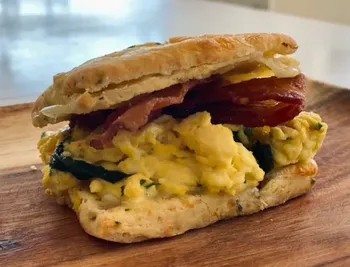 Savory Breakfast
$9.00
cheddar & herb biscuit, fontina cheese, scrambled eggs, smoked bacon or ham
Popular
Southwest Cobb (gf)
$16.00
mixed greens, gorgonzola, avocado, cherry tomato, roasted corn, black beans w/ cumin, hb egg, citrus vinaigrette
Popular
Buddha Bowl (veg)
$16.00
farro, baby arugula, marinated mozzarella, cherry tomato, peach, cucumber, citrus vinaigrette, balsamic reduction
Popular
Shrimp Tacos
$14.00
Herb marinated shrimp, roasted corn and black beans, mango and cabbage slaw, shaved radish, charred lime and cilantro aioli, flour tortillas
Popular
California Turkey Club
$14.00
house roasted turkey, lettuce, tomato, avocado, smoked bacon, gruyere, lemon aioli on toasted french pullman.
Popular
Tuna and Avocado
$14.00
pressed on country white with fontina cheese & avocado
Popular
Chicken Piccata Sandwich
$15.00
warmed baguette, lemon aioli, baby arugula
Popular
Chicken Salad Sandwich
$14.00
7 grain bread, lemon aioli, tomato, and baby arugula. | On country white 3/22
Popular
Popular
Sides
Coffee Drinks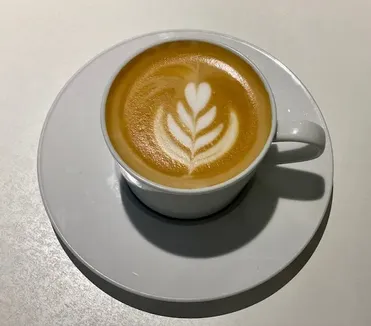 Morning Pastry
Tea Cake Slice
$2.50
daily selection of tea cake slices
Rhubarb Spice Cake
$2.50
old fashioned spice cake made with fresh local rhubarb, walnuts, buttermilk,& vanilla. this recipe heralds from my friend Nancy a fantastic cook and baker and all around great person.
Morning Pastry
Gluten Free Biscuits
$4.50
lemon lavender blueberry, rhubarb walnut
Muffins
$3.00
blueberry, lemon poppy seed
Biscuits
$3.75
lemon blueberry, rhubarb walnut, apple cheddar, apple pecan, rosemary goat cheese
Popular
Croissant- Savory ( Saturday Only)
$4.50
Coffee Cake
$3.50
cinnamon swirl, brown sugar streusel topping
Croissant-Sweet (Saturday Only)
$4.00
Hand rolled croissants made in house filled with chocolate, raspberry, or almond
Croissant- Plain ( Saturday Only)
$3.50
Hand Rolled Croissants made in house!!
Sides More
Country Potato Salad- 1/2 lb
$6.50
Red potatoes, onion, celery, vinegar, mayo
Roasted Beets- 1/2 lb
$7.00
arugula, crumbled gorgonzola, toasted walnut, blue cheese dressing
Judy's Soba Noodles- 1/2 lb
$7.50
Fresh ginger,scLlion, tangy peanut sauce
Baked Basmati Rice- 1/2 lb
$7.00
roasted tomato, cinnamon, shallot, and thyme
Quinoa- 1/2 lb
$8.00
Marinated roasted mushrooms, dill, mint, and parsley
Farro- 1/2 lb
$8.50
marinated mozzarella, cherry tomatoes, east coast peaches, cucumber, arugula
Mediterranean Green Beans- 1/2 lb
$8.00
Haricot very, capers, kalamata olives, French feta, red wine vinaigrette
Penne with Arugula Pesto-1/2 lb
$7.00
Penne tossed with arugula pesto, heirloom cherry tomatoes, roasted asparagus, and shaved parmesan.
Orzo with Wild Mushrooms- 1/2 lb
$7.00
Orzo pasta mixed with seared shiitake mushrooms, fresh herbs, evoo, and lemon juice. - Yes vegetarian.
Lemon Tagliatelle- 1/2 lb
$7.00
fresh capone lemon tagliatelle tossed with fresh herbs, lemon juice, and olive oil
Mashed Potatoes- 1/2 lb
$6.00
Grilled Gold Bar Squash- 1/2 lb
$8.50
calabrain chili, honey, crispy shallots
Charred Broccolini- 1/2 lb
$8.50
lemon zest, olive oil, MV sea salt
Slaw- 1/2 lb
$7.00
Cabbage, mango, and red onion, lime maple vinaigrette. Special! Today 6/25 with a fennel vinaigrette
Roasted Vegetables- 1/2 lb
$8.50
Zucchini, summer squash, and asparagus, fresh herbs, balsamic vinegar
Tea
New! White Peach Iced Tea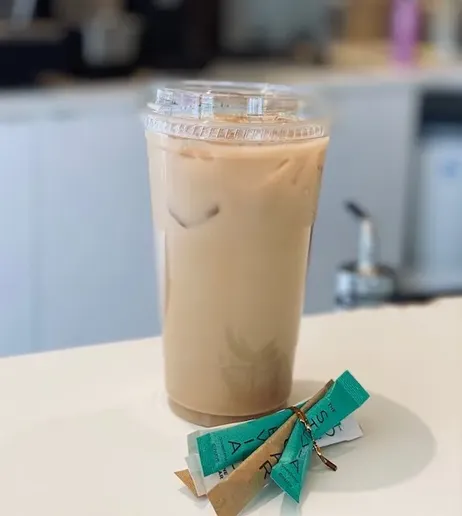 Crimson Berry Iced Tea
$3.29
London Fog
$4.75
Earl grey tea, vanilla syrup and steamed milk
Sides
Mini Muesli Bags
$5.00
Made in house, honey roasted oats with coconut and mixed nuts, finished with dried fruit.
Ronnybrook Drinkable Yogurt
$3.00
rotating flavors
Yogurt
$3.25
la fermiere yogurt
Soup
Beef And Black Bean Chili - Gf, Df
Zucchini and Basil- gf, vegan
ganished with basil. Gluten free and vegan
Split Pea - vegan/gf
$14.00
green split peas, mirepoix, vegetable stock.
Chilled Gazpacho - gf/df/vegan
Chilled summer gazpacho made with V8, lemon juice, red wine vinegar, evoo, cucumbers, green peppers, spanish onions and fresh dill.
Jason's Fantastic Gumbo
made with andouille sausage, chicken and shrimp. a little heat & served with rice
Lentil - gf, vegan
A traditional lentil soup made with mirepoix & vegetable broth
Chicken Soup- gf, df
$14.00
Tomato Soup- gf, veg.
Classic tomato soup
Chicken Tortilla Soup- df
Broccoli Cheddar - gf
garnished with scallions and cheddar cheese
Asparagus & Parmesan- gf, veg
Pies Tea Cakes Quick Breads
Italian Lemon Torta
$17.50
almond cake topped with lemon curd
Lemon Tea Bread
$9.00
lemon zest, fresh lemon juice, sour scream, walnut, tart & sweet lemon glaze
Apricot Almond Tea Cake
$16.50
almond pound cake, apricot jam, sliced almonds
Breakfast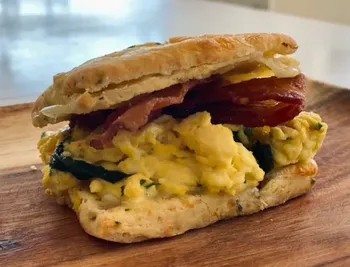 Savory Breakfast
$9.00
cheddar & herb biscuit, fontina cheese, scrambled eggs, smoked bacon or ham
Popular
Fruit Parfait (veg)
$8.00
fruit & berries, muesli, greek yogurt, lemon curd
Quiche
$10.00
savory deep dish quiche made with whole eggs, light cream, gruyère cheese and a hint of nutmeg. Served with a side of mixed greens
BLAST
$14.00
Smoked bacon, lettuce, avocado, duck trap smoked salmon, tomato on a plain croissant with lemon aioli. Out of croissants 5/27
Overnight Oats (veg)
$8.00
rolled oats, greek yogurt, almond milk, vanilla, maple syrup, seasonal toppings
Breakfast Burrito (veg)
$11.00
scrambled eggs w/ spinach, black beans, pico de gallo, avocado, roasted corn, cotija cheese, and ancho roasted mushrooms
Early Bird Egg Bowl
$12.00
scrambled eggs w/ spinach or a choice of fried, choice of smoked bacon, ham , sausage, or roasted vegetables, choice of toast
Special!! Really good breakfast sandwich
$10.00
With tomato jam, arugula, sharp cheddar, lemon aioli, and a fried egg on toasted 7 grain
Lunch
Special!! soup or salad and slider sandwich combo
$12.00
Choice of a half sandwich with cup of soup or a side salad. Out of chevre 8/14 will substitute manchego
Ovenbird Reuben
$15.00
Montreal slow cooked brisket, sauerkraut, swiss cheese, tangy russian dressing, grilled rye
Southwest Cobb (gf)
$16.00
mixed greens, gorgonzola, avocado, cherry tomato, roasted corn, black beans w/ cumin, hb egg, citrus vinaigrette
Popular
Buddha Bowl (veg)
$16.00
farro, baby arugula, marinated mozzarella, cherry tomato, peach, cucumber, citrus vinaigrette, balsamic reduction
Popular
Shrimp Tacos
$14.00
Herb marinated shrimp, roasted corn and black beans, mango and cabbage slaw, shaved radish, charred lime and cilantro aioli, flour tortillas
Popular
Special!! Lamb Sandwich
$14.00
Herb roasted lamb, arugula, tomato, pickled red onion, tzatziki, French feta and kalamata olives on baguette
California Turkey Club
$14.00
house roasted turkey, lettuce, tomato, avocado, smoked bacon, gruyere, lemon aioli on toasted french pullman.
Popular
Special!! Cup of Soup and Side Salad Combo
$12.00
choice of any soup and a side salad with dried cranberries, chevre, candied pecans, and citrus vinaigrette.
Tuna and Avocado
$14.00
pressed on country white with fontina cheese & avocado
Popular
Chicken Piccata Sandwich
$15.00
warmed baguette, lemon aioli, baby arugula
Popular
Roasted Veggie Panini
$14.00
Balsamic mari aged zucchini, summer squash, and bell peppers, local chevre, sundries tomato pesto, arugula, and fresh basil, pressed on country white
Chicken Salad Sandwich
$14.00
7 grain bread, lemon aioli, tomato, and baby arugula. | On country white 3/22
Popular
Other Beverages
Raspberry Lime Rickey
$3.25
Butterfly Blossom Lemonade
Made with pea-flower blossom tea and our house made lavender lemonade
Cookies Bars Individual Pastries
Fruit Tarte
$7.00
almond shortbread, almond rum baked custard, fresh fruit, apricot orange glaze
Dacquoise
$6.00
almond meringue, whipped cream, strawberry
Bars
$7.25
bag of two- brownies w/ walnuts, brownies w/o nuts, lemon squares
Craquelin
$6.50
pate choux, crunchy craquelin cookie, pastry cream, fresh strawberries, and strawberry whipped cream
Special! Cake Slice- 2 pc
$7.00
Daily assortment of cake slices packed 2 pieces per container
Bag of Diamant Cookies
$6.50
buttery shortbread type cookie dusted with coarse sanding sugar | 6 per bag
Cupcakes
$3.50
red velvet, devil's food, white velvet, gluten free vanilla (+ .50)
Popular
Cakes
Mazarin Au Chocolat (gf)
almond hazelnut dacquoise, chocolate mousse, chocolate ganache, gold leaf, and toasted almonds
Chocolate Symphony
rich, dense, chocolate torte, dark chocolate ganache and hand made chocolate flowers
Genoise
$38.00
chocolate cake with a kahlua syrup, chocolate buttercream, whipped cream, italian meringue buttercream, chocolate ganache
Carrot Cake
pecans, lots of carrots, danish cream cheese, italian meringue buttercream, candied carrot deco
Framboise
silver white cake, seedless raspberry preserve, italian meringue buttercream
Prepared Foods
Chicken Cutlets- 2 servings
$16.00
Chicken Piccata
$17.00
classic staple of vicki lee's, egg and parmesan battered chicken with lemon garlic butter | 2, 6 oz. servings
Grilled Shrimp w/ Maple Soy Salsa
$11.50
Vegetarian Meantballs (veg)
$14.00
roasted eggplant, panko, ricotta, garlic, and herbs, spicy tomato sauce | 6 meatballs
Zucchini Roulades - 2 servings
$17.00
Herbed ricotta and semonlina gnudi wrapped with grilled zucchini and served with tomato sauce
Seared Salmon- 2 servings (6oz pcs)
$34.00
maple and tamari glazed, grilled pineapple salsa
Crispy Sesame Crusted Tofu - 2 servings
$14.00
Tamari and lime marinated tofu, sesame seed and gluten free panko crust, sweet chili sauce
Salmon Cakes - 2 pc
$8.00
made with hidden fjord salmon and served with dijonaise
Roasted Salmon
$32.00
2, 6 oz servings with charred tomato and fennel, Greek yogurt
Vicki Lee's Crab Cakes
$20.00
classic staple of vicki lee's, served with jalapeno aioli and a lemon wedge | 2 ea
Ovenbird Roasted Chicken
$13.00
house seasoned dry-brined freebird chicken, slow roasted, herb butter basted, country gravy
Lasagna
$17.00
Sautéed leek & mushroom, ricotta cheese, bechamel, gorgonzola
---
Attributes and Amenities
Upscale
Formal
Kid-Friendly
Loyalty and Reward Programs
Wheelchair Accessible
Gift Cards
Table Service
Parking
Online Ordering
TV
Fresh Ingredients
Seating
Reservations
Bike Parking
Catering
Buffet
Takeout
All hours
| | |
| --- | --- |
| Sunday | Closed |
| Monday | Closed |
| Tuesday | 9:00 am - 5:30 pm |
| Wednesday | 9:00 am - 5:30 pm |
| Thursday | 9:00 am - 5:30 pm |
| Friday | 9:00 am - 5:30 pm |
| Saturday | 9:00 am - 5:30 pm |
Location
105 Trapelo Rd, Belmont MA 02478
---